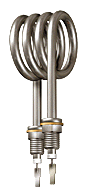 ON REQUEST


Our substantial activity is design and manufacturing heating elements, according to individual and special requirements.
Range of products include heating elements of all applications.
Heating elements are made of the best materials suitable to application (stainless steel, bras, lncoloy, copper).
We manufacture: tubular elements, mica heaters, cartridge heaters,
aluminium and brass embedded elements (dies, plates etc).
Length of tabular heating elements can reach over 6000 mm
(diameter 15, 10, 8,8, 6,5).
As for as Kanthal's machinery is concerned we can also offer long series.
Shown below elements please treat only as example of our activity.